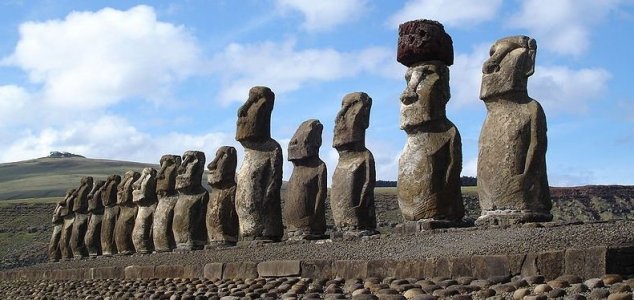 Some of the statues boasted distinct red headgear.

Image Credit: CC BY 2.5 Honey Hooper
The huge stone headpieces worn by the statues on Easter Island were probably placed using ramps.
There are still many aspects of the enigmatic Easter Island statues that are not yet fully understood, in particular how the ancient people of the island managed to carve, move and position the massive stone figures using only primitive tools and techniques.
Now however the secret behind one aspect of their construction might have finally been solved thanks to researchers who presented their latest findings at the 80th Annual Meeting of the Society for American Archeology earlier this month.
What they found was that the large red 'hats' worn by around 100 of the statues would have most likely been placed on top of the stones by rolling them up ramps. This technique would have been remarkably effective and might have only required a small group of workers to achieve.
Evidence pointing to this idea was found in the form of ring-shaped indentations and vertical scratches on the edges of the headgear that would have helped to provide traction.
A small lip at the base of the stones also likely helped prevent them from tipping over.
Archaeologists now believe that these 'hats' were most likely a representation of hair on the statues and that their vivid red color probably held ritualistic significance for the islanders.
Source: Yahoo! News | Comments (8)
Similar stories based on this topic:
Tags: Easter Island