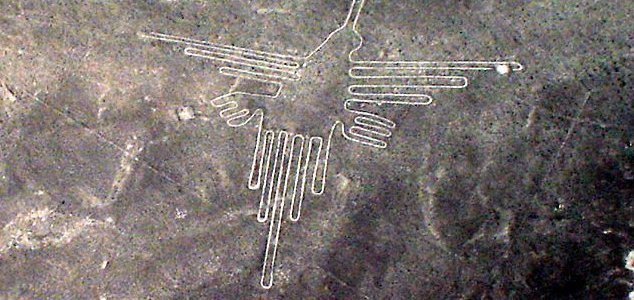 One of the many huge geogylphs found in the Nazca Desert.

Image Credit: CC BY 3.0 Martin St-Amant
The famous geoglyphs in Peru may have been created by at least two different groups of people.
Situated on a remote arid plateau in southern Peru, the Nazca Lines are a series of spectacular artistic designs, including images of spiders, monkeys, hummingbirds, fish and lizards, which were etched in to the desert floor almost 2,000 years ago.
The designs were produced by removing the red colored pebbles that litter the desert to unveil the white dusty ground underneath.
Some of the drawings are huge and measure up to 200m across.
Now however researchers investigating the origins of the lines believe that they may have been created by not one but several different groups of people over an extended period of time.
The earliest drawings were likely to have been created to mark out a ritual processional route, but evidence suggests that a later culture may have added to them by smashing ceramic pots on the ground where the lines intersected as part of some form of ancient religious rite.
"Our research revealed that the Formative geoglyphs were placed to be seen from the ritual pathways, while those of the early Nazca period were used as the loci of ritual activities such as intentional destructions of ceramic vessels," said Masato Sakai of Yamagata University.
Source: Discovery News | Comments (32)
Tags: Nazca Lines