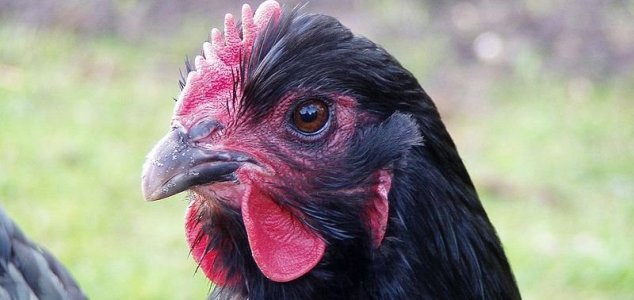 Birds are the modern descendants of the dinosaurs.

Image Credit: PD - Wiki
Scientists have succeeded in reverting the beaks of chicken ambryos in to dinosaur-like snouts.
In the movie 'Jurassic Park' scientists were able to clone dinosaurs by retrieving their DNA from blood-sucking insects preserved in amber, but there is another potential way to bring these prehistoric reptiles back from the dead and it involves the very species that the dinosaurs would eventually evolve in to - birds.
Through genetic manipulation, scientists believe, it may one day be possible to regress the DNA of a modern species back in to the state it was in millions of years ago and create a living dinosaur.
While accomplishing this is still a very long way off, researchers at Harvard University recently managed to achieve the first tentative steps with one specific part of a bird - its beak.
By manipulating the gene proteins of chicken embryos the scientists were able to revert the animals' beaks back in to snouts reminiscent of those seen in therapod dinosaurs such as Velociraptor.
"The beak is a crucial part of the avian feeding apparatus, and is the component of the avian skeleton that has perhaps diversified most extensively and most radically," said study lead author Bhart-Anjan Bhullar.
The scientists are hoping that these unique embryos will help them to better understand both how the beak evolved and how dinosaurs transitioned in to birds over millions of years.
"There are between 10,000 and 20,000 species of birds alive today, at least twice as many as the total number of mammal species, and so in many ways it is still the Age of Dinosaurs," said Bhullar.
Source: Live Science | Comments (36)
Similar stories based on this topic:
Tags: Dinosaur, Bird, Chicken