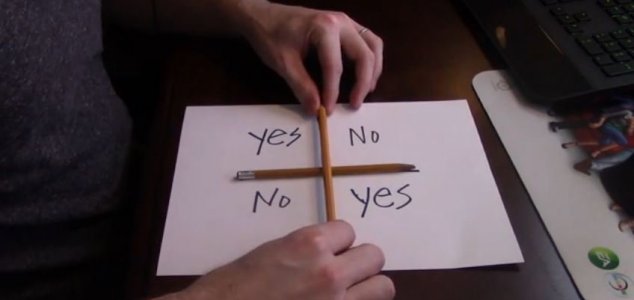 Is an upcoming horror movie responsible for the Charlie Charlie Challenge ?

Image Credit: YouTube / SSundee
Rumors have suggested that the viral phenomenon may be a marketing stunt for an upcoming movie.
Since appearing on social media over the last couple of weeks the Charlie Charlie Challenge, which involves attempting to summon a spirit using two pencils placed in a cross shape on top of a piece of paper, has become one of the most talked about trends on the Internet.
The game is played by saying out loud "Charlie, Charlie, are you here?" and waiting to see if the pencils move. If they do, the participants then follow up with a series of 'yes' / 'no' questions.
Despite the game's popularity however the pencils, which need to be carefully balanced on top of one another, will usually move by themselves with even the slightest breeze or vibration.
In the last few days the challenge, which is thought to have originated in the Dominican Republic some time around the end of April, has been making headlines once again - this time concerning the rumor that it was actually started as a viral advertising campaign for the upcoming horror movie 'The Gallows' which also features a spirit named Charlie.
The only problem though is that even this seems to have become a topic of controversy.
According to
The Independent
, the connection between the challenge and the movie seems to be based on a snippet from the film that was posted several days after the phenomenon had already become popular. It also appears that the reference to the paper and pencils was added in because of the Charlie Charlie Challenge and not as a precursor to it.
There is also no mention of the challenge in any marketing materials related to the film.
While it is certainly possible that the whole thing was started as a clever marketing stunt it isn't quite clear enough yet that 'The Gallows' really is behind it all.
Source: Independent | Comments (59)
Tags: Charlie, Ghost, Spirit