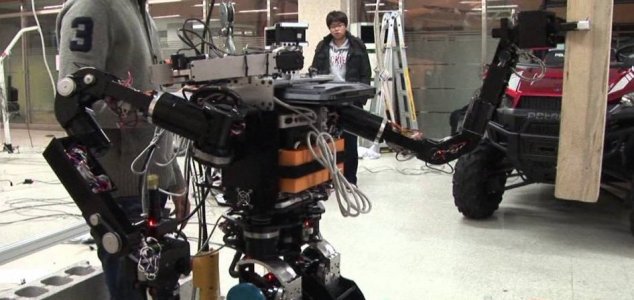 Team KAIST preparing their Hubo robot for the competition.

Image Credit: YouTube / HuboLab KAIST
A robot from South Korea has scooped the $2 million prize for an impressive win across eight tasks.
The event saw a dozen teams from Japan, Germany, South Korea, Italy, Hong Kong and the US compete in California to determine which of their robots was the best at performing a series of different tasks which this year were themed around helping out at the site of a major disaster.
The tasks included opening a door, walking across rubble, climbing up steps and even driving a car over a short distance. Unlike previous years the robots had to do everything while untethered which resulted in a number of humorous mishaps with entrants toppling over in spectacular style.
Thousands of people turned up to watch as South Korean team KAIST managed to complete all eight tasks in a record time of 44 minutes 28 seconds with their robot DRC-Hubo.
The only other robot to complete all the tasks was Tartan Rescue which took just over 55 minutes.
Source: Wired | Comments (5)
Tags: DARPA, Robot