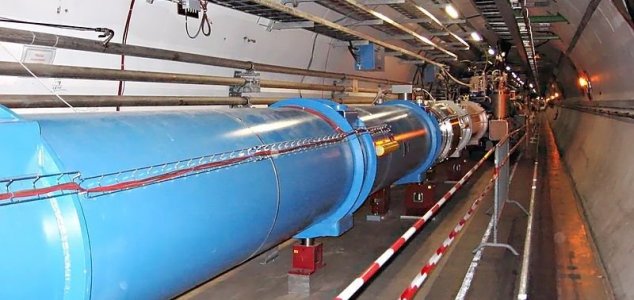 One section of the Large Hadron Collider.

Image Credit: CC BY-SA 3.0 Julian Herzog
The world's largest atom smasher has made a new discovery in the form of a particle called a pentaquark.
Having only recently relaunched following a two-year hiatus the Large Hadron Collider at Cern has already succeeded in making history once again thanks to the discovery of a new particle.
The bizarrely named pentaquark was first predicted to exist back in the 1960s but had managed to remain elusive for years, much like the Higgs Boson which was finally discovered back in 2012.
A pentaquark is made up of four quarks and an anti-quark, with a quark being a subatomic particle first proposed by physicists Murray Gell Mann and George Zweig in 1964 as the constituent building block of baryons and mesons.
"The pentaquark is not just any new particle," said spokesman Guy Wilkinson. "It represents a way to aggregate quarks, namely the fundamental constituents of ordinary protons and neutrons, in a pattern that has never been observed before in over fifty years of experimental searches."
"Studying its properties may allow us to understand better how ordinary matter, the protons and neutrons from which we're all made, is constituted."
Source: BBC News | Comments (11)
Similar stories based on this topic:
Tags: Large Hadron Collider, Cern, Pentaquark