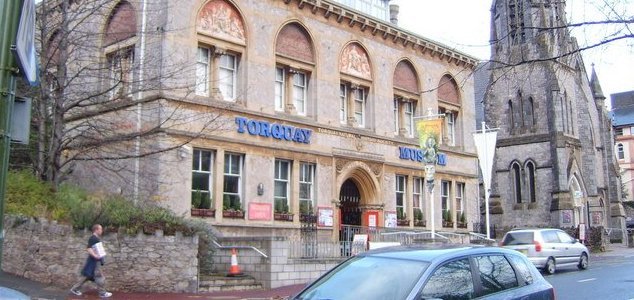 Torquay Museum was originally founded in 1844.

Image Credit: CC BY-SA 2.0 Paul Hutchinson
Amateur ghost hunters have captured an image of what looks like a shadowy woman's face in Torquay Museum.
The group had been investigating the building, which dates back 140 years, as part of a special "Night at the Museum" event which had been organized to look for evidence of paranormal activity.
When they got together later to review the pictures they'd taken they were surprised to discover a ghostly face peering out from the level of the floorboards in one of the photographs.
"It appears to be a woman, and from the angle of the photograph it looks like she is submerged into the floor, almost like she is below floor level," said staff member Carl Smith.
"It's a pretty clear photograph, and there was no one else present when the photo was taken. So we are at a loss to explain it. It is a bit of a mystery, and there seems to be no other explanation."
The peculiar image was captured in the museum's Old Farmhouse section which is home to a collection of farm equipment and a chair that dates back over 300 years.
"All of the furniture and equipment has had a lot of human interaction, and maybe this is where the energy has come from," said Smith.
The group are now planning to return for another night to see if they can capture anything else.
Source: Plymouth Herald | Comments (26)
Tags: Ghost, Haunting, Devon