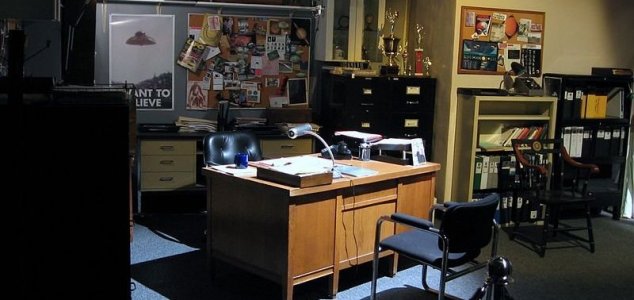 Mulder's office from the original X-Files television series.

Image Credit: CC BY 2.0 Marcin Wichary
The man who created 'The X-Files' TV show maintains that his views echo those of Mulder's iconic poster.
With a new run of six episodes currently being filmed - the first return to the franchise since the 2008 movie 'The X-Files: I Want to Believe' and the first television episodes since the show was originally discontinued in 2002 - it's a good time to be a fan of the iconic science fiction series.
Original cast members David Duchovny and Gillian Anderson will be reprising their roles as Mulder and Scully respectively and several other original characters are set to return as well.
One of the reasons that the show proved so successful was because many of the stories and themes throughout the series were based on real-world legends and mysteries including alien abduction, government conspiracies, hauntings, UFOs and many more.
For the new series creator Chris Carter will also be drawing upon more recent events including the revelations by Wikileaks of government-sanctioned eavesdropping and cover-ups.
"You can imagine I was the least shocked person in the world," he said on the matter. "It is not surprising to me at all… those assertions and allegations are what I think The X-Files was built on."
While Carter has been heavily influenced over the years by weird and wonderful tales of everything from psychic warfare to strange creatures roaming the woods, his own beliefs happen to remain very much in line with the words on the famous poster that hung in Mulder's office.
"That 'I Want To Believe' poster states it so perfectly for me," he said. "I am looking for a paranormal experience. I am looking for a miracle, I am waiting for the supernatural."
"I am waiting to be confronted with something I can't explain."
The new six-episode series of The X-Files is set to premiere on January 24, 2016.
Source: Independent | Comments (82)
Tags: The X-Files, Chris Carter