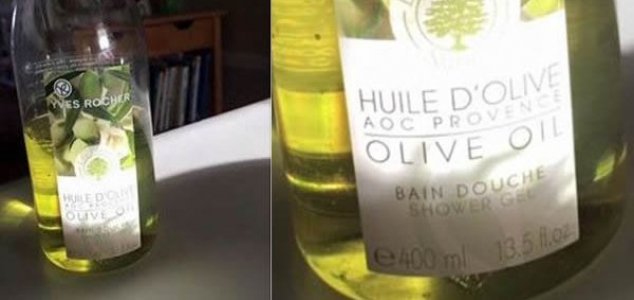 Is it really possible to mistake cooking oil for shower gel ?

Image Credit: Facebook / Melony Jackson
For the longest time Melony Jackson couldn't work out what was making her cooking taste so disgusting.
In what could be one of the most ridiculous cooking mishaps ever, a woman from West Horsham in West Sussex discovered to her horror that for several months she had been mistakenly using a bottle of olive oil based shower gel in her cooking in place of actual olive oil.
While the £5.40 bottle of shower gel admittedly does look like it could be a culinary product at a glance, the words 'shower gel' at the bottom of the label ought to have been a bit of a giveaway.
According to her post on Facebook Melony ended up throwing away two saucepans because she believed they were responsible for her food tasting strange. She even considered changing her dishwasher as well until she finally realized the extent of her blunder.
"Turns out what I thought was olive oil was olive oil shower gel," she wrote.
"Chef of the week award is not mine."
Source: Mirror | Comments (40)
Tags: Cooking, Shower Gel, Olive Oil