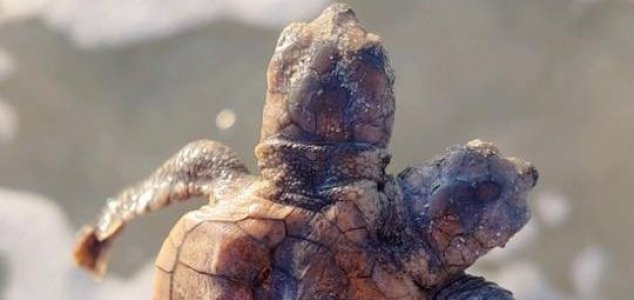 Mutations like this are rare.

Image Credit: Facebook / Sea Turtle Patrol Hilton Head Island
A sea turtle monitoring group discovered the unusual hatchling on a beach on Hilton Head Island on Tuesday.
The rare two-headed loggerhead turtle, which was found during a nest inventory, is thought to be the result of a random genetic mutation.
The researchers who found it have named the two heads Squirt and Crush.
"We thought we had seen it all during this very busy season on Sea Turtle Patrol!" they wrote. "Yesterday on patrol during a nest inventory this bicephalic hatchling was discovered."
"This mutation is more common in reptiles than in other animals but it is still very rare. As with other live hatchlings found during a nest inventory, this hatchling was released to the ocean."
Sadly it is not thought that the hatchling will live very long due to its mutation.
"It couldn't really swim," said marine biologist Amber Kuehn. "One head governed one side (of the turtle's body) on the front, and other head governed the other flipper. They weren't working together."
Source: CBS Local | Comments (6)
Similar stories based on this topic:
Tags: Two-Headed, Turtle