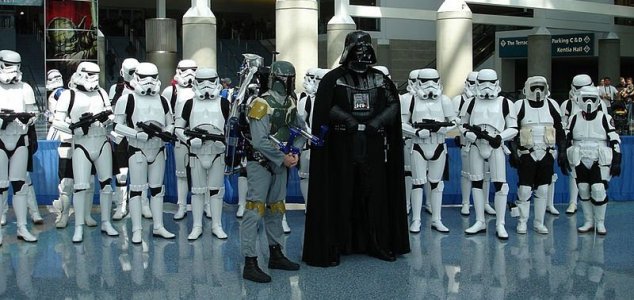 Star Wars remains a global phenomenon.

Image Credit: CC BY 2.0 Doug Kline
Jim Braden has taken binge-viewing to a whole new level by spending almost two days watching Star Wars.
Fans of the epic sci-fi saga will have been eagerly queuing up to watch The Force Awakens at cinemas over the last few days, but even the most die-hard of Star Wars obsessives is unlikely to have attempted to watch all the movies back-to-back non-stop for a whole 46 hours.
40-year-old Braden, who is a content strategist at Dell, was one of seven fans who participated in the Alamo Drafthouse cinema chainís Star Wars marathon which involved sitting in a movie theater to watch through the entire saga - all six of the original and prequel films as well as episode VII - repeatedly in an endless loop until all the other participants had dropped out.
"I wanted to demonstrate my passion," he said. "I grew up with Star Wars. As a kid, the simple morality just appealed to me. Everybody likes a white-hat hero they can get behind."
Braden had to rely on US Navy Seal breathing techniques to help him get through the ordeal.
"We put ourselves through hell mentally and physically," he said. "Watching it became almost a hallucinatory experienceÖ one other guy complained of having chest pains and dropped out."
"I came out of it saying that I still enjoyed the movie. Thatís how you know itís good."
Source: The Guardian | Comments (9)
Tags: Star Wars