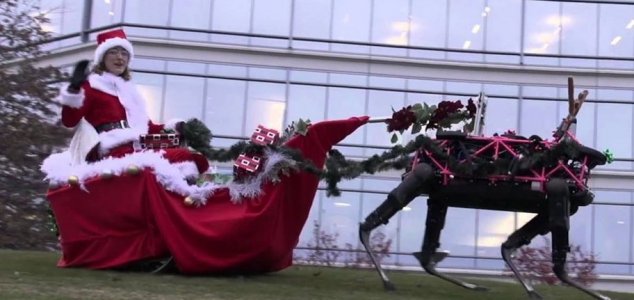 The festive BigDogs pulled the sleigh along.

Image Credit: YouTube / Boston Dynamics
The robotics company has released a Christmas video featuring some rather unorthodox-looking reindeer.
Best known for its work developing robotic platforms for use in military and emergency rescue scenarios, the Google-owned company has produced a festive greetings video featuring three BigDog robots pulling a female Santa along on a sleigh.
To help fit the theme the all-terrain robots have been spruced up with their own reindeer antlers.
Founded back in 2002, Boston Dynamics has continued to impress over the years with its unique line-up of realistic robots with impeccable balance and the ability to walk over just about anything.
One of its best known creations, the DARPA-funded BigDog was originally designed to act as a pack mule of sorts to help carry heavy equipment for soldiers across dangerous and uneven terrain.
Equipped with low-friction hydraulic cylinder actuators in each of its legs, the robot uses an array of onboard sensors to maintain its balance and to keep it from bumping in to things.
Source: Trusted Reviews | Comments (5)
Tags: Boston Dynamics, Dog, Robot