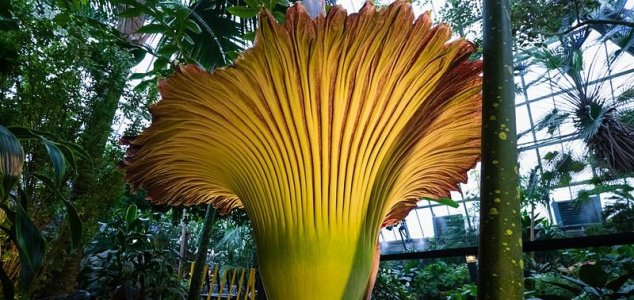 The Corpse Flower smells notoriously terrible.

Image Credit: CC BY-SA 4.0 Richard J. Rehman
A particularly unusual and foul-smelling flower is known to bloom only once every 1,000 days.
Native only to the rainforests of Sumatra, Amorphophallus titanum is something of a botanical oddity due to its sporadic flowering behavior and its extremely strong smell of rotting flesh.
Known as the 'Corpse Flower', the plant has proven to be a popular attraction at the Mount Lofty Botanic Garden near Adelaide where visitors have been queuing up to see the six-foot plant in bloom - something that occurs only once every three years and lasts only a matter of hours.
One of the staff, Matt Coulter, described the stench as being like that of a "dead animal".
"When I opened the glasshouse this morning it almost blew me away it is so strong," he said.
"I almost had to stop myself from throwing up it was so bad. Until you have actually experienced it, it is the first time I've actually smelt it; it's like nothing else."
One visitor described the smell as "like a rubbish bin" while others thought it smelled like "cooked broccoli that had gone off in the fridge" and even "a smelly bag of rotten fish."
Timelapse footage showing the flower coming into bloom can be viewed below.
Source: Telegraph | Comments (5)
Tags: Corpse Flower, Australia