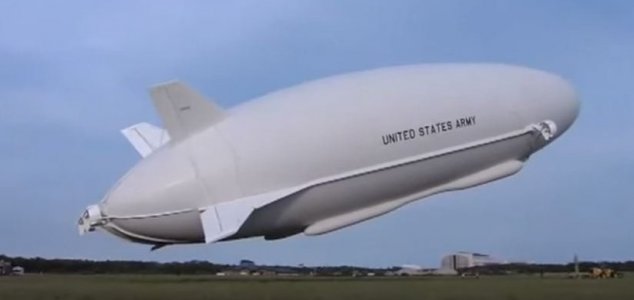 The Airlander 10 during an early test flight.

Image Credit: YouTube / Hybrid Air Vehicles Airlander
The world's largest aircraft, the Airlander 10, will be embarking on its maiden voyage next month.
Nicknamed the 'Flying Bum' due to its unfortunate shape, the 300ft-long airship was originally developed as part of a US Army project that was discontinued back in 2012.
A cross between an airship and an airplane, the vessel's construction was later taken over by British company Hybrid Air Vehicles and now, following years of hard work, the helium-filled behemoth is almost ready to begin its new job providing business and leisure flights.
Larger than any other aircraft currently operating anywhere in the world, the Airlander 10 does not have an internal structure like traditional airships but instead becomes rigid once it is filled with gas.
"The very latest materials, which are both strong and light, are used throughout the manufacture of our cutting-edge Airlander 10, ranging from the bespoke hull fabric to the mainly carbon composite Mission Module, Fuel Module, Ducts and engine support battens," the firm wrote.
"We produce less noise, less pollution, have a lower carbon footprint than conventional aircraft, and have longer endurance and better cargo-carrying capacity than any other flying vehicle."
Capable of taking off vertically like a helicopter, the vessel is propelled by four 350hp, four-litre V8 diesel engines and will be able to reach speeds of up to 90mph at a height of 20,000ft.
Source: Mail Online | Comments (11)
Tags: Airlander 10, Airship