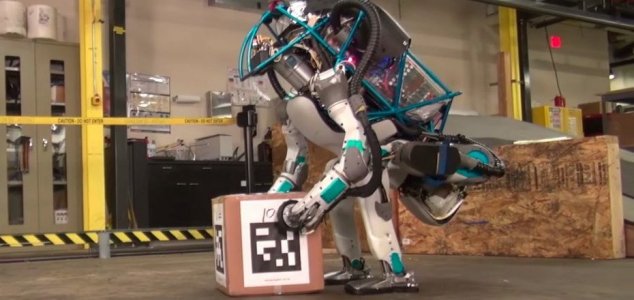 The new version of Atlas is able to bend down and pick things up.

Image Credit: YouTube / Boston Dynamics
The latest incarnation of the eerily human-like robot looks about ready to start taking over the world.
Google-owned Boston Dynamics is certainly no stranger to building robots having already impressed with its line of quadrapedal 'Big Dog' robots designed to carry heavy loads over uneven terrain.
The previous iteration of its bipedal Atlas robot on the other hand had suffered from balance issues and an inability to recover after falling down - something that became readily apparent during its appearance at the recent 'robolympics' where it repeatedly fell over during the trials.
Not to be deterred, the Boston Dynamics team has since been hard at work improving the robot and now, several months on, they have finally revealed their new and improved design.
The new robot now comes equipped with the ability to stand up by itself if it falls down and is a lot better at traversing uneven terrain. It is also able to pick up objects and can even open doors.
"It is electrically powered and hydraulically actuated," the company wrote. "It uses sensors in its body and legs to balance and LIDAR and stereo sensors in its head to avoid obstacles, assess the terrain, help with navigation and manipulate objects."
A recently released video demonstrating the robot's abilities can be viewed below.
Source: Tech Radar | Comments (29)
Tags: Robot, Atlas, Boston Dynamics