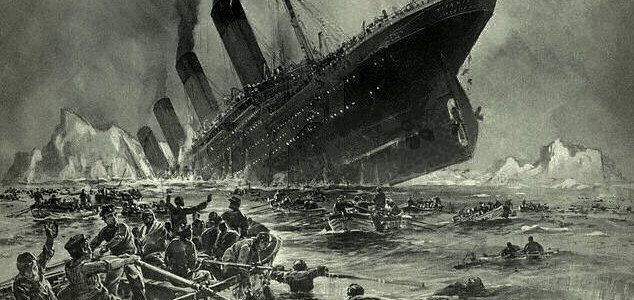 The iceberg that sunk the Titanic was originally much larger.

Image Credit: Willy Stower - 1912
A university professor has revealed new details about the iceberg that sunk the RMS Titanic in 1912.
The sinking of the Titanic is one of the most well known and talked about disasters in history, but what isn't quite as well documented is the large chunk of ice that the ship struck before it sank.
According to Professor Grant Bigg of Sheffield University, the offending iceberg, which at the time of the disaster measured 400ft long and weighed 1.5 million tons, was originally an absolute giant weighing over 75 million tons and measuring up to 1,700ft long.
Formed from snow that fell over 100,000 years ago, the huge iceberg must have been melting for months before it eventually found its way in to the path of the notoriously 'unsinkable' ship.
Professor Bigg's findings were based on observations made at the time of the disaster combined with modern data about ocean and wind currents.
"We have a computer model for calculating the paths of icebergs in any given year," he said.
"We take what we know about ocean currents, then add meteorological readings for that year to calculate prevailing winds. Applying those techniques to 1912 points to the iceberg coming from around Qassimiut on Greenlandís southwest coast."
Source: Belfast Live | Comments (8)
Tags: Titanic, Iceberg