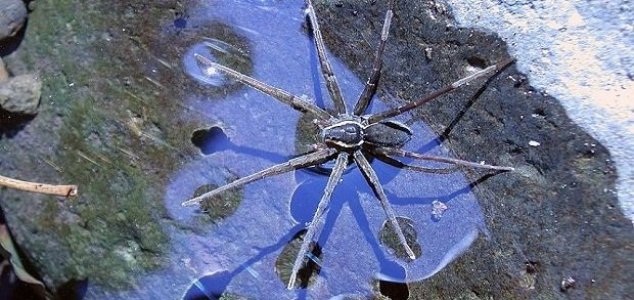 The spider is able to catch food while walking on water.

Image Credit: CC BY 3.0 Queensland Museum
A newly discovered species of spider in Australia spends most of its time hunting in freshwater streams.
Named 'Dolomedes Briangreenei' in honor of World Science Festival co-founder Professor Brian Greene, the new spider is a master of walking on water and is able to hunt by listening out for the vibrations of its prey which include insects, tadpoles, fish, frogs and even cane toads.
"These spiders sit there on the water and then all of a sudden an insect will hit the water and the spider races out to get it, grabs it, dives under the water and then swims back to the shore and starts eating it," said Queensland Museum spider expert Robert Raven.
The spider, which was revealed during the 2016 World Science Festival, was discovered in the streams of Brisbane, Australia and is fortunately not thought to be harmful to humans.
"Physics is all about waves; understanding the universe is all about waves," said Professor Greene.
"With the announcement last month of humankindís first detection of gravitational waves - ripples on the surface of space and time - I am particularly honoured to be so closely associated with a spider that has its own deep affinity for waves."
Source: Telegraph | Comments (7)
Tags: Spider, Brian