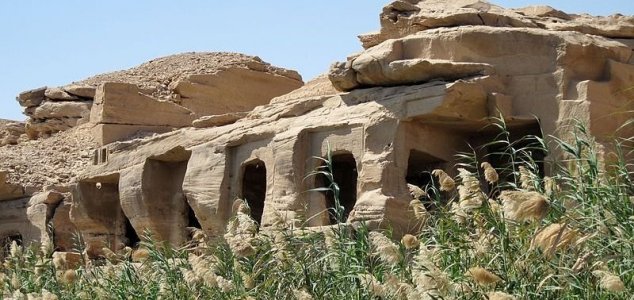 Gebel el Sisila, the quarry site north of Aswan.

Image Credit: CC BY 3.0 Olaf Tausch
Archaeologists have unearthed a 3,400-year-old New Kingdom necropolis at the Gebel el Sisila quarry site.
The discovery, which was announced this week by the Ministry of Antiquities, was made at the site from which most of the stone blocks used to build Egypt's ancient temples were originally cut.
Having battled difficult working conditions in an area affected by annual flooding from the Nile, the archaeologists, including Maria Nilsson and John Ward of the Gebel el Silsila Survey Project, managed to document 40 separate tombs as well as a small shrine on the banks of the river.
Many of the tombs had been badly damaged over the centuries by erosion however it has still been possible to recover several artifacts from the site including fragments of decorated coffins, mummy wrappings and items of jewelry such as beads and amulets.
While the identities of the individuals buried there have yet to be determined, the researchers believe that they would have been of higher rank than the quarry workers.
"Preliminary analysis of the bones suggests burials of men, women and children of all ages," said Ward. "This indicates a more permanent habitation at Gebel el Silsila than previously thought."
Source: Discovery News | Comments (1)
Tags: Necropolis, Egypt, Aswan