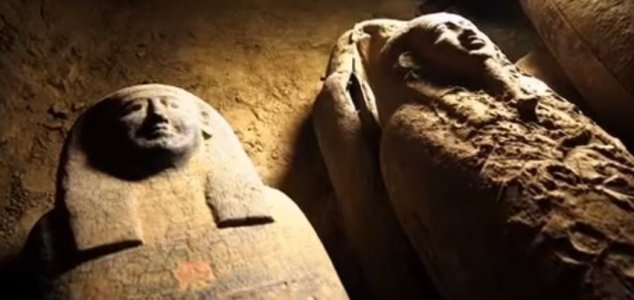 Most of the coffins are still sealed.

Image Credit: Facebook / Egypt Ministry of Tourism and Antiquities
The haul of several dozen coffins - with mummies inside most of them - is thought to date back 2,600 years.
The discovery, which was made at the ancient desert necropolis of Saqqara, was announced on Saturday by Egypt's tourism and antiquities minster Khalid el-Anany.
It follows on from the discovery of 13 coffins in a burial shaft at the site back in September.
"I consider this is the beginning of a big discovery," said el-Anany.
Saqqara itself served as the necropolis for Memphis - the capital of ancient Egypt - and contains bodies interred over an extended period of more than 3,000 years.
Not all of these were noblemen either - some were middle and working class individuals.
What makes this particular discovery so significant - aside from the sheer number of coffins - is the fact that most of them are sealed and still contain the bodies and accompanying burial artifacts.
Archaeologists believe that there are likely to be many more to find at the site.
According to el-Anany, the newly discovered coffins will be put on display in the upcoming Grand Egyptian Museum which is being constructed near the Giza Pyramids.
In the meantime, excavations at Saqqara are likely to reveal more surprises over the coming weeks.
Source: Boston.com | Comments (5)
Similar stories based on this topic:
Tags: Egypt, Mummy