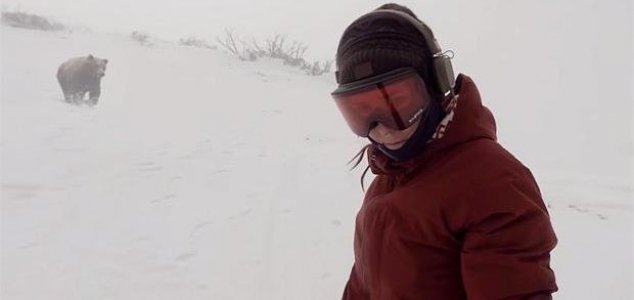 Was the woman in the video really being chased by a bear ?

Image Credit: YouTube / Kelly Murphy
A new viral video appears to show oblivious snowboarder Kelly Murphy being pursued by a large bear.
Murphy, who at the beginning of the video can be seen preparing for her downhill run at the Hakuba 47 ski resort in Japan, seemed to have no idea that the bear was charging towards her in the background just as she started descending the slope.
Unaware of the danger, Murphy merrily hummed a Rihanna song while utterly oblivious to the ominous growls of her pursuer as it charged after her down the hill.
It wasn't until she reviewed the footage later that she realized the extent of her close shave.
But is everything really as it seems ? For one, the bear's growls seem oddly distinct and the rushing wind sounds overly quiet given that the video is being recorded while racing down a snowy slope.
Another issue is that while black bears do represent a problem in Japan at certain times of the year, the animal in the video looks like a brown bear - a species not found on the country's mainland.
So is the footage real or could the whole thing be some sort of viral hoax ? You decide.
Source: Evening Standard | Comments (41)
Tags: Snowboard, Bear