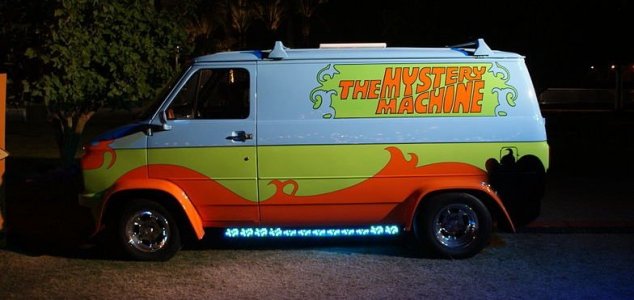 The Mystery Machine has been a Scooby Doo staple for decades.

Image Credit: CC BY 2.0 Pat Loika
Scooby Doo's famous van made an impromptu visit to a home in Minneapolis–Saint Paul on Friday morning.
Typically used by Fred, Daphne, Shaggy and the rest of the gang in their hunt for eccentric villains dressed up as ghosts and monsters, the distinctive green and blue 1960s panel van featured in the Hanna-Barbera cartoon classic has proven a popular build among custom van enthusiasts.
One such vehicle, which had been painted to look exactly like the Mystery Machine, ended up embedded in the side of a house on Friday after thieves stole the van and drove it in to a wall.
It isn't yet clear who was responsible for the incident, which occurred at around 3am in the morning, however St. Paul police have reported the arrest and subsequent release of two teenagers.
The van itself, which was badly damaged, is likely to be out of commission for quite some time.
Source: CBS Local | Comments (18)
Tags: Mystery Machine, Scooby Doo