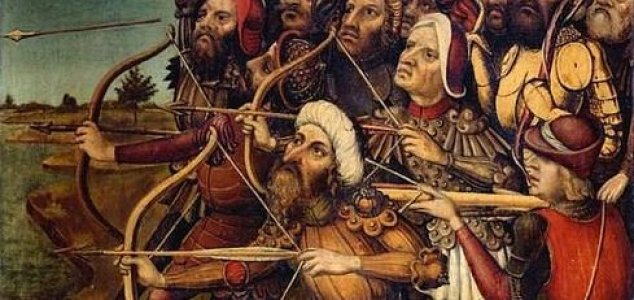 Real-life fire arrows were not as effective as in the movies.

Image Credit: Ecole Rhenane
It's a form of attack used to great effect in movies - but did real soldiers ever actually use them ?
From Braveheart to Game of Thrones, archers have long been seen dipping their arrows in to a flammable liquid, setting them alight and raining fiery death down upon their enemies.
According to YouTube historian Lindybeige however, the whole idea of setting your arrows on fire before sending them flying towards someone is fraught with problems.
Perhaps the biggest problem of all is the fact that modifying an arrow to be able to stay on fire for the entire time that it is flying through the air significantly compromises its effectiveness as a long-range weapon - in particular its ability to pierce a target and to travel far enough to hit someone.
Wrapping an arrow in some sort of cloth and setting it alight is also likely to do more damage to the archer's hand than to whatever it eventually hits and making the shaft longer to compensate will simply make it too heavy and too fragile to be a useful weapon during battle.
Perhaps the only time fire arrows could be helpful is in naval combat where a carefully aimed arrow might be able to set the sails of an enemy vessel on fire or blow up a powder keg.
Overall though, these deceptively unintimidating weapons were most likely only used under certain conditions to pester and distract enemies rather than as a staple weapon during large battles.
Source: Gizmodo | Comments (14)
Tags: Fire Arrows