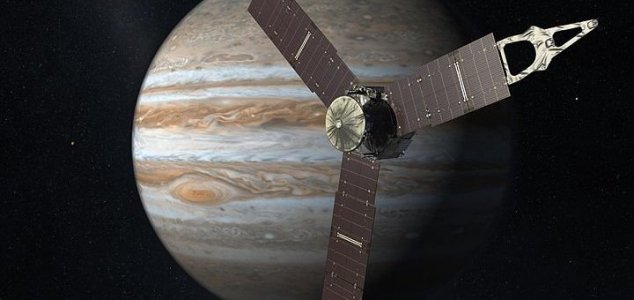 The Juno spacecraft has finally arrived at Jupiter.

Image Credit: NASA / JPL
NASA's Juno spacecraft has successfully reached its destination after a journey spanning five years.
There were cheers of jubilation from the team at NASA's Jet Propulsion Laboratory this morning as the news came in that the probe had survived its complex orbital insertion manoeuvre.
"Itís overwhelming," said Juno's project manager Diane Brown. "The risks that were overcome, itís amazing. The more you know about the mission the more you know about how tricky it was."
During its time in orbit around the gas giant the $1.1 billion spacecraft will aim to unravel many of Jupiter's secrets including what lies deep beneath its swirling atmosphere, how the planet came to form and what processes are responsible for generating its complex weather systems.
"What Junoís about is looking beneath that surface," said principal investigator Scott Bolton.
"Weíve got to go down and look at whatís inside, see how itís built, how deep these features go, learn about its real secrets."
The probe's instruments include a microwave radiometer, a magnetometer, an infrared auroral mapper and a high-resolution color camera that will take detailed shots of Jupiter's polar regions.
Over the course of 37 orbits lasting 14 days each, Juno will get within 2,600 miles of the gas giant's swirling clouds as it peers down through the atmosphere in the hope of confirming whether or not the planet actually has a solid core at its center.
"The primary goal is to understand the recipe for how you make a solar system," said Bolton. "What we can tell from our instruments can help us learn how planets formed in the first place."
Source: The Guardian | Comments (60)
Similar stories based on this topic:
Tags: Juno, Jupiter