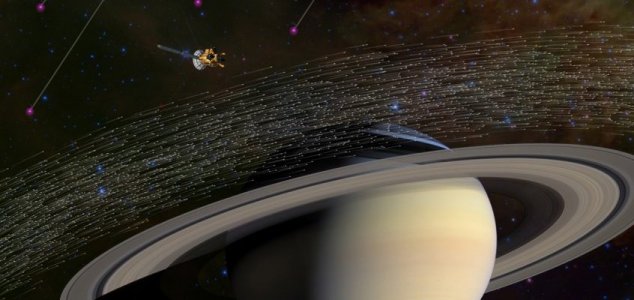 Cassini has been in orbit around Saturn for 12 years.

Image Credit: NASA/JPL-Caltech
NASA's highly successful spacecraft will soon be getting up close and personal with the gas giant itself.
Originally launched all the way back in 1997 and arriving in orbit around Saturn in 2004, Cassini, which initially came paired with ESA's Titan-bound Huygens lander, has been one of the biggest success stories in space exploration over the last two decades.
Brimming with an array of sophisticated instrumentation, Cassini has sent back huge amounts of information about Saturn and its moons as well as about its fascinating and enigmatic ring system.
Now entering its final year, the probe is set to begin edging ever closer to the planet's rings as part of a series of increasingly risky orbits that will provide scientists with a whole new view of Saturn.
"During the F-ring orbits we expect to see the rings, along with the small moons and other structures embedded in them, as never before," said Cassini project scientist Linda Spilker.
"The last time we got this close to the rings was during arrival at Saturn in 2004, and we saw only their backlit side. Now we have dozens of opportunities to examine their structure at extremely high resolution on both sides."
The final phase of the mission, which has been named 'The Grand Finale', will see Cassini actually passing through the gap between Saturn and its rings - an unexplored region 1,500 miles wide.
Then in September of next year, the aged spacecraft will begin its ultimate descent - a suicidal maneuver that will send it plummeting through Saturn's atmosphere, collecting data as it goes.
It will continue to transmit its findings until, with the friction of the gas giant's swirling atmosphere heating its exterior to breaking point, it will finally go silent as it meets its fiery demise.
Source: Spaceflight Insider | Comments (5)
Tags: Cassini, Saturn