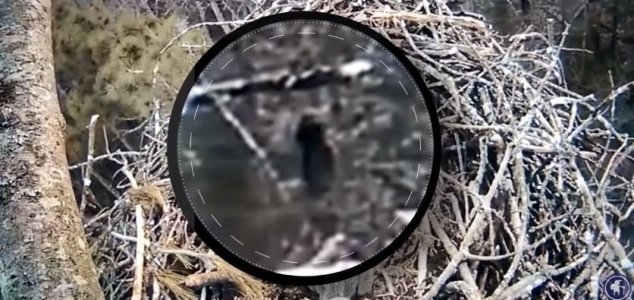 The figure didn't seem to know where it was going.

Image Credit: YouTube / OutdoorHub
A live feed from an eagle's nest in Michigan has recorded a mysterious figure wandering around below.
Situated in a tall tree at the Platte River State Fish Hatchery near Beulah, Northern Michigan, this nest of Bald Eagle chicks is being monitored online using a special live camera feed setup.
While checking through the footage archives recently however the team responsible for the feed noticed something unusual - a dark figure skulking around the forest floor far below.
Visible at the top right of the frame as well as in an enlarged segment at the center of the picture, the figure, which appears to be walking upright, has drawn comparisons to the legendary Bigfoot.
Whether the footage really is evidence of the elusive hominid however remains unclear.
Source: OutdoorHub.com | Comments (47)
Tags: Bigfoot, Eagle