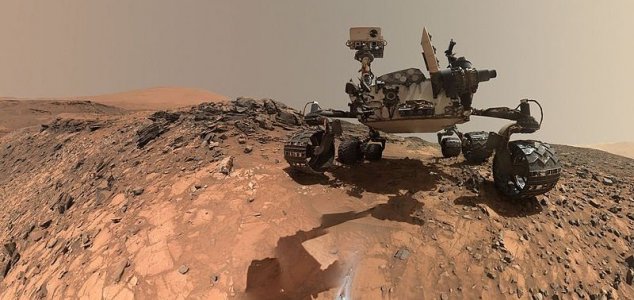 It is looking increasingly likely that Mars could have once supported life.

Image Credit: NASA
Curiosity has discovered minerals from over several million years of the Red Planet's geological history.
Mars might be an inhospitable place today, but in its distant past scientists believe that it was very much like the Earth and may have even been capable of supporting primitive life forms.
One of the reasons that NASA landed Curiosity in Gale Crater is because it is one of the most promising places to look for evidence of what Mars used to be like during this time.
The lowest point on the planet's surface for thousands of miles, the crater is thought to have once contained a lake of liquid water that may have endured for a very long time.
The rover's most recent discovery at the site, which was announced earlier this month, is what scientists have described as a 'jackpot' of mineral deposits on the crater floor.
The find is helping to cement the idea that the planet would have once been habitable.
"We are seeing chemical complexity indicating a long, interactive history with the water," said geologist John Grotzinger from the California Institute of Technology.
"The more complicated the chemistry is, the better it is for habitability. The boron, hematite and clay minerals underline the mobility of elements and electrons, and that is good for life."
Source: Inquisitr.com | Comments (16)
Tags: Mars, Curiosity