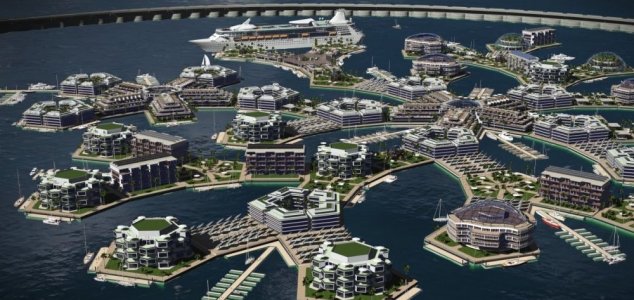 A concept image of what has been dubbed Artisanopolis.

Image Credit: The Seasteading Institute
The world's first ever floating city could soon begin construction off the French Polynesian coast.
The idea of creating an independent, politically autonomous nation that exists entirely on the ocean has been around for years, but to date the concept has simply proven too technologically, financially and politically challenging to put in to practice.
Now though, following years of speculation, it looks as though the idea of building a floating city might actually be set to become a reality after all.
The Seasteading Institute - a US company that has been researching the concept for the last five years, has struck a deal with the French Polynesian government to host the ambitious project.
According to executive director Randolph Hencken, finding a host nation represents a significant milestone that could could enable construction of the floating city to begin as early as 2019.
Ultimately the firm is hoping that the city will one day be able to enjoy complete political autonomy and could eventually lead to a whole series of independent floating nations.
"The first islands are going to be a pilot project and there will just be many dozens [of people] to get started with and then... we grow and are more successful, we will hopefully see hundreds and thousands of people living there," said Hencksen.
"What excites me about the project is a location where people are going to create a community based on interests on floating islands rather than have a community because they happen to be born there and this is their ethnicity."
Source: ABC.net.au | Comments (9)
Tags: Floating City, French Polynesia