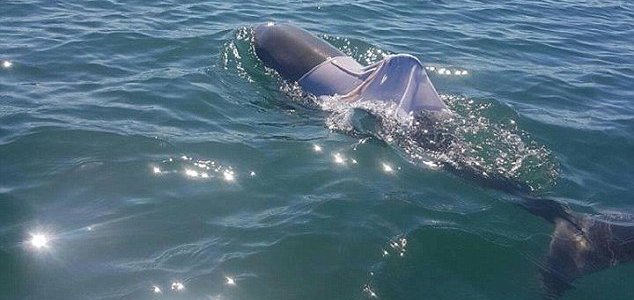 How did this dolphin end up wearing a shirt ?

Image Credit: Facebook / Department of Parks and Wildlife
Wildlife officials are investigating reports of a dolphin that was spotted wearing some sort of garment.
The Department of Parks and Wildlife was first alerted to the peculiar incident by the Dolphin Discovery Center after a member of the public took photographs of the animal.
It was spotted around Koombana Bay, Bunbury with what looked like a shirt wrapped around its body and dorsal fin. It remains unclear how it ended up with the item of clothing however officials have been treating the case as suspicious and believe that someone put it on the animal deliberately.
The sighting is of concern because the shirt could ultimately cause the dolphin to suffocate.
Interfering with marine mammals in this way is also illegal and can fetch up to a $4000 fine.
Source: News.com.au | Comments (7)
Tags: Dolphin, Shirt