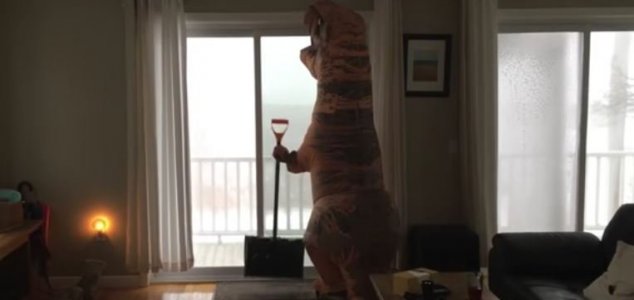 It was not the best of days to be shovelling snow.

Image Credit: YouTube / Leslie Haasch
YouTuber Leslie Haasch decided to try clearing up the snow in her garden while dressed as a dinosaur.
The bizarre and hilarious stunt went a bit pear-shaped after it became apparent that going outside in an inflatable Tyrannosaurus rex costume during a blizzard wasn't the most sensible of decisions.
The footage shows Haasch struggling to put on her boots before venturing outside. Her attempt to shovel the snow from her yard lasted only a matter of seconds.
"Sometimes things just don't work out the way you want them to and you can't even get to the snow you want to shovel," she wrote in the video description.
Source: Huffington Post | Comments (11)
Tags: Dinosaur, Snow