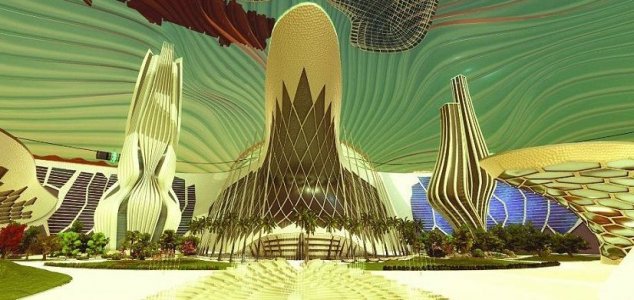 A conceptual image of what the city on Mars might be like.

Image Credit: Dubai Media Office / Twitter
The extremely ambitious endeavour, which is known as 'Mars 2117', was announced in Dubai two days ago.
The United Arab Emirates (UAE) has certainly achieved much over the last few decades including the construction of the Burj Khalifa - the world's tallest building.
Now the country has set its sights even higher still by revealing plans to build, not in the desert, but on Mars as part of an ambitious new project designed to colonize the Red Planet within 100 years.
The plan involves building a community on Mars with an emphasis on international co-operation.
"Human ambitions have no limits, and whoever looks into the scientific breakthroughs in the current century believes that human abilities can realise the most important human dream," said Sheikh Mohammed, ruler of Dubai and the prime minister of the United Arab Emirates.
While 100 years certainly offers plenty of time to turn the country's ambitions in to reality, there are already plans in motion to begin the exploration of Mars sooner rather than later.
One of these, an unmanned mission called "Mars Hope", is scheduled to launch in the summer of 2020 and will aim to study the planet's atmosphere and climate.
Source: Tech Times | Comments (12)
Tags: UAE, Dubai, Mars 2117