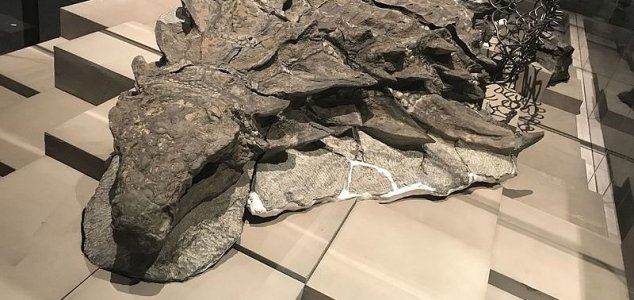 The fossil is incredibly detailed.

Image Credit: Machairo CC BY-SA 4.0 Machairo
Dinosaurs equipped with spikes and bony plates may have also employed camouflage to avoid predators.
Palaeontologists analyzing organic material retrieved from a nodosaur fossil dating back over 110 million years have discovered that this prehistoric plant-eater relied on more than just physical defenses to keep it safe from predatory dinosaurs.
Its chainmail-like armor, far from exhibiting the dull monotones commonly portrayed in artwork, was actually a distinct red and white color that would have acted as a form of camouflage.
"[Rhinos] also have horns and they can use those to dodge predation and things like that, but rhinos don't have counter-shading and the reason is nobody messes with them," said study co-author Jakob Vinther. "They have lost camouflage - they don't need it."
"That [this nodosaur] is camouflaged means that it still was experiencing predation regularly - these animals got gobbled up and eaten by the large theropod dinosaurs. Things were scary back then."
The fossil that was analyzed for the study, which is pictured above, was unearthed in the Suncor Millennium Mine in Canada and is so well preserved that it almost looks like a statue.
"There is always so much hyperbole when a new dinosaur is discovered, but this one deserves all of the superlatives," said palaeontologist Stephen Brusatte from the University of Edinburgh.
"It is one of the most gorgeous, best preserved skeletons I've ever seen."
Source: The Guardian | Comments (21)
Similar stories based on this topic:
Tags: Dinosaur