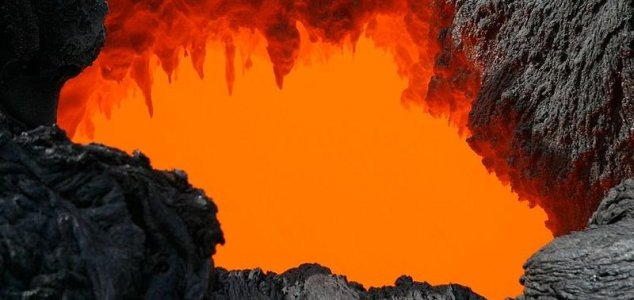 Lava originating from the depths of the mantle can exceed 1,600 degrees.

Image Credit: USGS
Scientists have determined that 1,600-degree lava once surged to the surface in what is now Costa Rica.
Komatiite, a type of magnesium-rich rock which forms in the Earth's mantle, dates back over 2.5 billion years to a time when temperatures in the mantle were much higher than they are today.
Surprisingly however, scientists have now found signs that komatiite-like lava rock had reshaped the Central America and Caribbean regions as recently as 90 million years ago, suggesting that some parts of the Earth's mantle may still be as hot now as they were billions of years ago.
It is believed that this superheated lava caused a collapse in oceanic oxygen levels resulting in an underwater mass extinction event during the age of the dinosaurs.
While fortunately there is no indication that such an occurrence is likely to happen again any time soon, the research has highlighted the fact that the risk of such a catastrophe still remains.
"The more we understand the past, the better we're going to know about the present and the future of the planet," said geochemist and study author Esteban Gazel.
Source: Seeker.com | Comments (0)
Similar stories based on this topic:
Tags: Lava