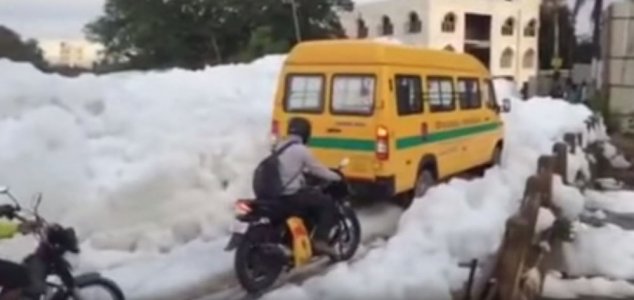 The foam proved a hazard to drivers.

Image Credit: YouTube / Confused Channel
Heavy monsoon rainfall in the southern Indian city has resulted in a nearby lake overflowing with foam.
The cooling rains, which had been initially welcomed following an extensive period of sweltering summer temperatures, ended up causing chaos after huge mounds of foam started spilling over from nearby Varthur Lake, filling the streets and bringing the traffic to a crawl.
"We noticed froth on the road on Saturday morning," said Pravir B, a member of the citizen group Whitefield Rising. "There's a mesh on one side of the road, where foam has not escaped."
"But, the heavy winds resulted in foam getting blown from the other side of the lake and entering the road, disrupting traffic. In fact, the foam is entering helmets, and coming in contact with the skin."
The problem is worsened by the fact that the foam itself is thought to be quite toxic.
"All authorities are aware of the problem," said Pravir. "They need to give it deeper thought. Varthur Kodi Junction is a busy place, and everyone gets affected by the foam. We must remember it was bound to happen given that root cause of the lake's pollution has not been addressed."
Source: Times of India | Comments (0)
Tags: Bangalore, Foam