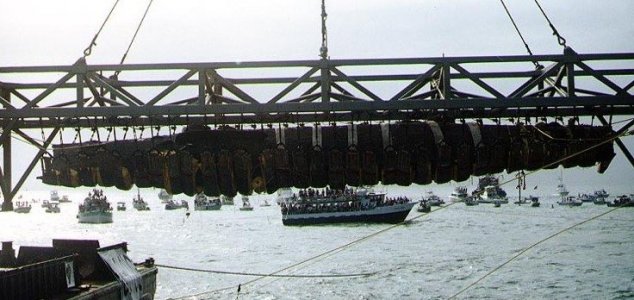 The HL Hunley being recovered from the sea floor.

Image Credit: Barbara Voulgaris
The crew of the HL Hunley, one of the world's first combat submarines, inexplicably died at their posts.
The first submarine ever to down a battleship, the HL Hunley met its own demise in 1864 after successfully torpedoing the USS Housatonic off the coast of South Carolina.
It was initially believed that the force of the explosion had ruptured the submarine's hull, but when the wreckage was raised in 2000, salvage experts discovered that the crew had seemingly died at their posts without having made any effort to escape or react to whatever disaster had befallen them.
Now researchers at Duke University believe that they may have finally found the answer to this mystery and it is all to do with the shockwave produced by the explosion.
The torpedo responsible, unlike modern torpedoes, was a simple copper keg that had to be directly delivered to the enemy vessel by first ramming it with a 16ft pole known as a spar.
This meant that the submarine was very close when the torpedo was detonated.
At such a short distance, any significant explosion can produce a shockwave capable of instantly rupturing blood vessels within the brain and lungs - a phenomenon known as 'blast lung'.
"That creates kind of a worst case scenario for the lungs," said Dr Rachel Lance.
"Shear forces would tear apart the delicate structures where the blood supply meets the air supply, filling the lungs with blood and killing the crew instantly."
Source: Telegraph | Comments (5)
Tags: HL Hunley, Submarine