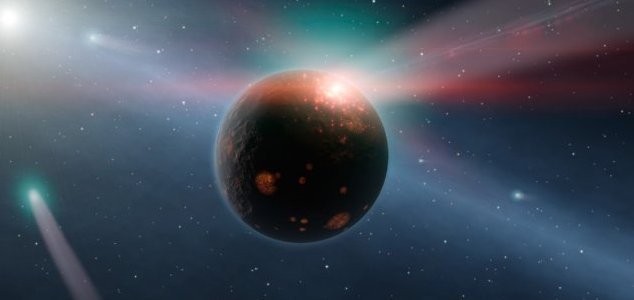 Earth was once bombarded by comets and asteroids.

Image Credit: NASA/JPL-Caltech
Scientists have made a discovery that could push back the emergence of life further than ever before.
The controversial findings are based on a recent analysis by researchers in Japan of graphite particles found in rocks from the Saglek region of northern Labrador, Canada.
The results of the study indicate that the rocks, which are thought to date back over 3.95 billion years, contain traces of primitive organisms, making this the earliest known example of life on our planet.
The problem however is that this would place the emergence of life within an extremely violent period of Earth's history during which the planet was being constantly bombarded by asteroids and comets left over from the formation of the solar system.
"It may be difficult to create life before 3.8bn years ago due to the bombardment, which may destroy early life," said senior researcher Yuji Sano from the University of Tokyo. "But now it is 4bn years."
"Life started on Earth during the heavy bombardment of meteorites, which is amazing."
Not everyone however is convinced that the Japanese team's findings are correct.
"Regardless of the veracity of the biogenic evidence from the graphite, the claim that it is the oldest requires that the geochronology is watertight," said scientist Martin Whitehouse.
"If it's younger than about 3.8bn years, it isn't very exciting anymore."
"I would say this fails the first test of proving an oldest anything in a region where igneous rocks have a range of ages between 3.9 and 3.7bn years old."
Source: The Guardian | Comments (12)
Similar stories based on this topic:
Tags: Earth, Life