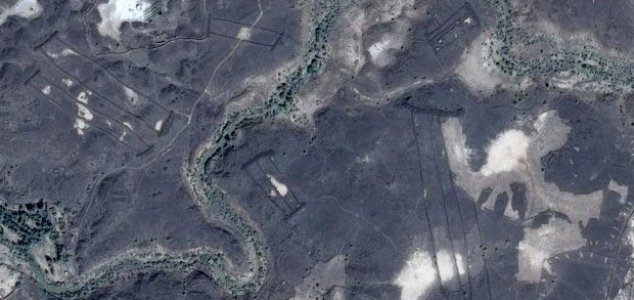 Several of the mysterious 'gates' can be seen in this image.

Image Credit: Google Earth
Over 400 unexplained structures have been discovered in the Saudi Arabian desert using Google Earth.
Found by Australian researcher David Kennedy whose team has already identified thousands of archaeological sites in the Middle-East, these peculiar man-made edifices seem to defy explanation.
Thought to have been constructed between 2,000 and 9,000 years ago by the ancestors of the modern-day Bedouin people, the structures are only visible when viewed from high above.
"You can't see them in any intelligible way at the ground level but once you get up a few hundred feet, or with a satellite even higher, they stand out beautifully," said Kennedy.
"I refer to them as Gates because when you view them from above they look like a simple field gate lying flat, two upright posts on the sides, connected by one or more long bar."
"They don't look like structures where people would have lived nor do they look like animal traps or for disposing of dead bodies. It's a mystery as to what their purpose would have been."
Source: CTV News | Comments (13)
Tags: Saudi Arabia, Desert