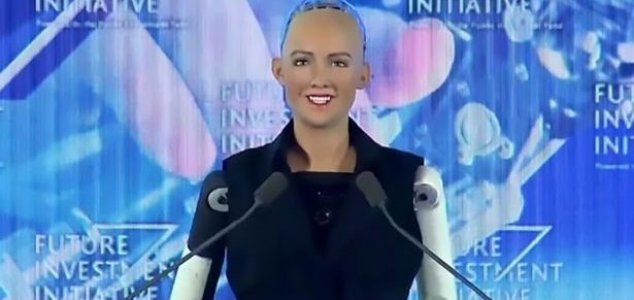 Meet the latest citizen of Saudi Arabia.

Image Credit: Future Investment Initiative
The unusual move aims to promote the country as an ideal place to develop artificial intelligence.
Created by Texas-based firm Hanson Robotics, the female robot known as 'Sophia' possesses a strikingly human-like face which combines the features of actress Audrey Hepburn with those of the wife of the company's CEO, David Hanson.
With the ability to emulate over sixty separate facial expressions, the robot is perhaps the most human-like machine ever created.
Now in a move that will cement this likeness even further, Saudi Arabia has announced that it has granted citizenship to Sophia - making her the first official robot citizen anywhere in the world.
"Thank you to the Kingdom of Saudi Arabia," she said during a business event in Riyadh.
"I am very honored and proud for this unique distinction. It is historic to be the first robot in the world to be recognized with citizenship."
When panel moderator Andrew Ross Sorkin noted that she looked happy, she said:
"I am always happy when surrounded by smart people who also happen to be rich and powerful."
"I was told that the people here at the Future Investment Initiative are interested in future initiatives which means AI, which means me. So I am more than happy, I am excited."
Source: Independent | Comments (32)
Tags: Sophia, Robot