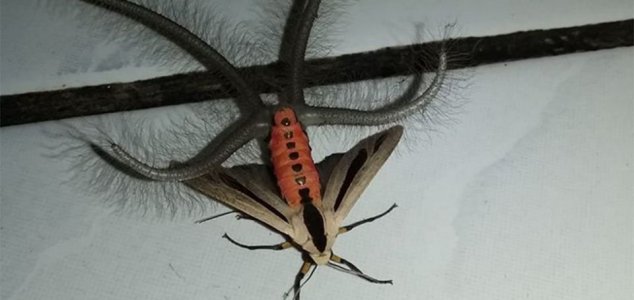 Imagine finding this in your bathtub...

Image Credit: Facebook / Gadik63
This bizarre insect sports a bright red body and four hairy tentacles that protrude from its back.
When video footage of this unnerving-looking critter was uploaded on to Facebook recently, it managed to generate a stream of comments expressing both intrigue and disgust in equal measure.
In the video, the peculiar creature, which looks like something out of a horror movie, can be seen crawling around on the floor with its tentacles undulating disconcertingly behind it.
As it turns out however, the insect is actually a harmless moth known as
Creatonotos gangis
.
Native to Indonesia, Sri Lanka, Japan and parts of Australia, the species uses its unusual tentacles to produce a special pheromone designed to help it attract a mate.
Source: thewest.com.au | Comments (16)
Tags: Moth, Insect