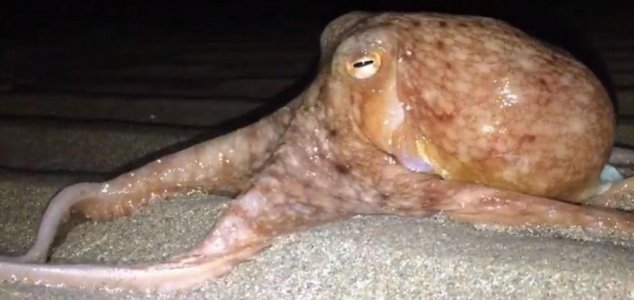 Curled octopuses measure around 20 inches in length.

Image Credit: SeaMor Dolphin Watching Boat Trips
Beachgoers in the UK have reported seeing dozens of the cephalopods crawling across the sand.
Brett Stones, a dolphin tour operator in Cardigan Bay, spotted as many as 25 curled octopuses on New Quay beach on Friday night and there have been similar sightings three nights in a row.
Their behavior is particularly unusual as they are unable to survive for long out of water.
"It was a bit like an end of days scenario," said Stones. "There were probably about 20 or 25 on the beach. I have never seen them out of the water like that."
"Maybe they are getting confused by the bright lights in New Quay harbor and maybe they are dying off after summer or getting knackered after the recent storms."
"It is really rare to see them."
Source: BBC News | Comments (17)
Tags: Octopus, Wales