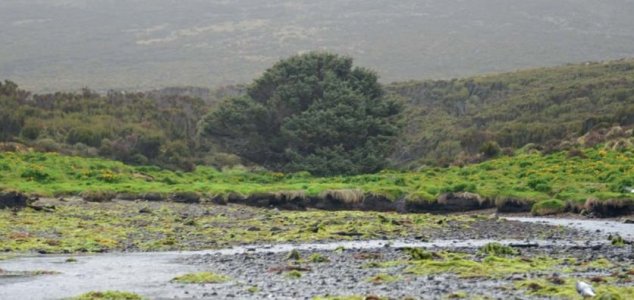 The loneliest tree on Earth.

Image Credit: CC BY 4.0 Chris Turney et al.
A solitary tree on an island in New Zealand may hold the key to determining the beginning of the Anthropocene.
Most scientists would agree that the Earth has now emerged in to the Anthropocene era - a new geological period defined by mankind's influence over the planet's climate and environment.
Exactly when this transition in to a new era actually took place however remains a matter of debate.
Now in a renewed bid to find the answer, scientists have turned to New Zealand's Campbell Island - home to a single Sitka spruce which, at 117 years old, may hold the key to determining the precise moment when the Holocene epoch gave way to the Anthropocene.
According to the research, traces of radioactive material found in the rings of the tree are thought to contain the 'synchronous global signature within geological-forming materials' needed to 'formally define the onset of the Anthropocene.'
This radioactivity was left over from atomic bomb tests carried out in the South Pacific.
"We were incredibly excited to find this signal in the Southern Hemisphere on a remote island, because for the first time it gave us a well-defined global signature for a new geological epoch that could be preserved in the geological record," said lead author Professor Chris Turney.
"Thousands of years from now this golden spike should still stand as a detectable marker for the transformation of the Earth by humankind."
Source: Weather.com | Comments (5)
Tags: Anthropocene, Epoch