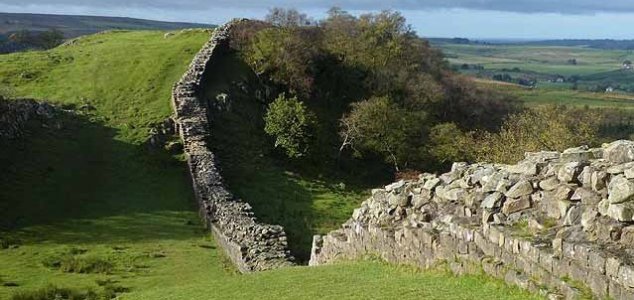 The Romans built Hadrian's Wall at the northern limit of their empire.

Image Credit: CC BY-SA 2.0 Oliver Dixon
The well-preserved gloves were discovered during the excavation of a Roman fort on Hadrian's Wall.
Created from a single piece of leather folded over in to a pouch, each boxing glove was designed to fit snugly over the wearer's knuckles to protect them from impacts during practice sparring matches.
The level of preservation is such that the gloves, which were unearthed at Vindolanda fort near Hexham in northern England, can still fit on to a person's hands.
"I have seen representations of Roman boxing gloves depicted on bronze statues, paintings and sculptures, but to have the privilege of finding two real leather examples is exceptionally special," said director of excavations Andrew Birley.
"What really makes Vindolanda so unique is the range of organic objects that we find. Every one of them brings you closer to the people who lived here nearly 2,000 years ago."
"But the hairs stand up on the back of your neck when you realize that you have discovered something as astonishing as these boxing gloves."
Source: ABC.net.au | Comments (11)
Similar stories based on this topic:
Tags: Roman