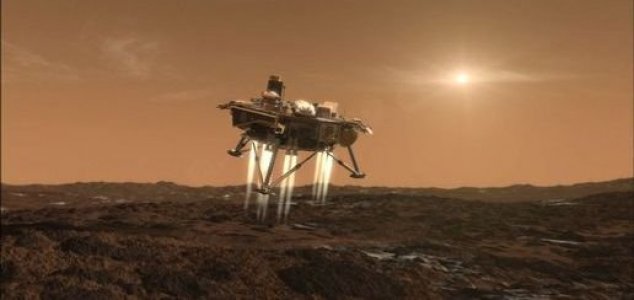 An artist's impression of Phoenix touching down on Mars.

Image Credit: NASA
A new image of the long-dead Phoenix lander on Mars has shown that it has become coated in a layer of dust.
The lander, which launched in 2007 and arrived on Mars in 2008, spent only a few months acquiring readings and studying its surroundings before contact with it was lost.
Now NASA's Mars Reconnaissance Orbiter has captured a new image of the landing site which shows just how much dust has piled up on the probe since its arrival almost a decade ago.
"The Phoenix lander itself, plus its back shell and parachute, are still visible in the image taken Dec. 21, 2017, by the High Resolution Imaging Science Experiment (HiRISE) camera on NASA's Mars Reconnaissance Orbiter," NASA wrote.
"But an animated-blink comparison with an image from about two months after the May 25, 2008, landing shows that patches of ground that had been darkened by removal of dust during landing events have become coated with dust again."
Source: CNET.com | Comments (1)
Tags: Phoenix, Mars