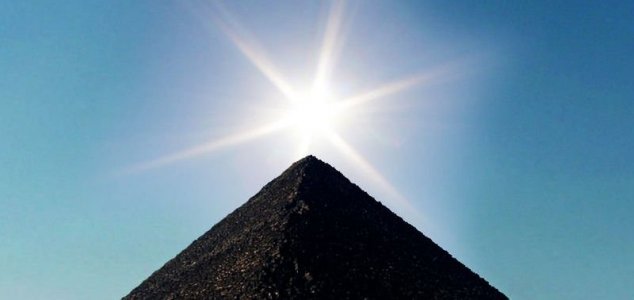 Did the Egyptians use the fall equinox to align the pyramids ?

Image Credit: CC BY-SA 2.5 Nina Aldin Thune
Archaeologist and engineer Glen Dash has worked out how such a precise alignment was achieved.
Among the many wonders of the Great Pyramid of Giza is the mystery of how its ancient Egyptian builders managed to align it so precisely along the cardinal points, north-south-east-west.
"The builders of the Great Pyramid of Khufu aligned the great monument to the cardinal points with an accuracy of better than four minutes of arc, or one-fifteenth of one degree," said Dash. "All three pyramids exhibit the same manner of error; they are rotated slightly counterclockwise."
As it turns out however, the answer to this enigma may be deceptively simple.
According to Dash, the method used by the builders would have involved placing a rod (or 'gnomon') on a wooden platform and marking where the shadow fell at various times throughout the day.
If this is done at the time of the fall equinox, the tip of the shadow will run almost perfectly east to west but with the same small degree of error seen in the alignments of the pyramids themselves.
"It is hard to imagine a method that could be simpler, either conceptually or in practice," he said.
Source: Live Science | Comments (6)
Tags: Egypt, Pyramid