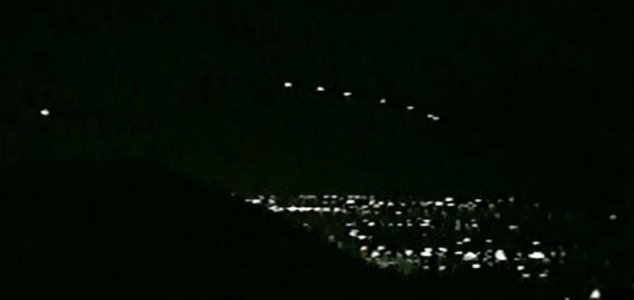 The Phoenix Lights were widely reported.

Image Credit: Archive footage
One of the most hotly debated UFO cases in history still continues to intrigue some 23 years later.
On March 13th, 1997, thousands of people witnessed either a series of stationary lights over the Phoenix, Arizona area or a set of lights in a triangular formation which passed over the state.
The phenomenon was also witnessed in neighboring Nevada and in the Mexican state of Sonora.
Even now, more than two decades later, the nature and origins of the Phoenix lights continue to remain a topic of heated debate. Some argue that the lights were extraterrestrial in nature, while others have dismissed the whole thing as little more than a routine military training exercise.
Some researchers have spent a large part of their lives attempting to determine what happened.
One of these - Dr. Lynne Kitei - describes the incident as "the most witnessed, most documented, most important mass anomalous aerial sighting in modern history, if not all of history."
She was one of the original witnesses who saw the lights that night in 1997 and has since published multiple books on the subject having spent the last two decades researching the case.
She has even created a new documentary that is set to be shown at the Harkins Shea on the afternoon of March 15th - just two days after the 23rd anniversary of the event.
There will also be a panel discussion focusing on how the lights were reported by the media.
A news report from an earlier anniversary of the incident can be viewed below.
Source: Fox 10 Phoenix | Comments (7)
Tags: Phoenix Lights