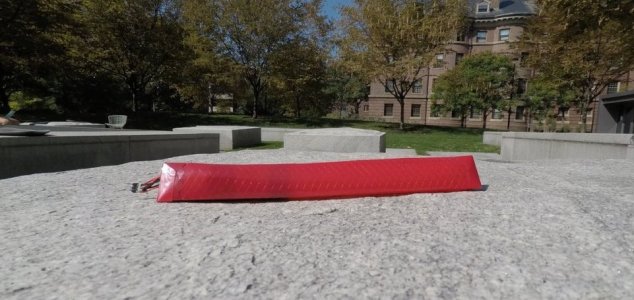 The robot moves in an eerily realistic manner.

Image Credit: YouTube / Harvard University
The ingenious device uses special snake-like 'scales' to help grip the ground and pull itself along.
Developed by a team of researchers at the Harvard John A. Paulson School of Engineering and Applied Sciences (SEAS), the snake-like contraption consists of a soft silicone rubber tube that repeatedly expands and contracts as air is pumped in to and out of it.
The key to its movement lies in its outer skin which has been laser cut to create 'scales' that, like those of a real snake, are able to grip the ground and help move the robot along.
The researchers tried cutting the scales in to a variety of different shapes including circles and triangles however it turned out that trapezoidal scales allowed for the longest strides.
It is hoped that, in the future, robots like this one could be scaled down to fit inside blood vessels where they could perform minor procedures or deliver drugs to specific parts of the human body.
Full-size ones could also be used to help locate victims after a disaster such as an earthquake.
Source: The Verge | Comments (4)
Tags: Snake, Robot