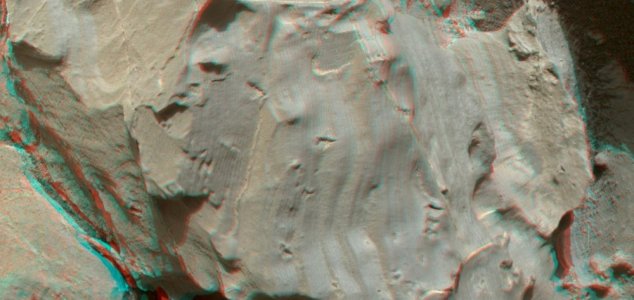 Has Curiosity discovered evidence of ancient life forms on Mars ?

Image Credit: NASA
Geomicrobiologist Barry DiGregorio maintains that the Curiosity rover has found evidence of alien life forms.
The controversial claim concerns photographs of unusual crystal-shaped features that were discovered along a ridge by NASA's flagship exploratory rover earlier this year.
"These shapes are characteristic of gypsum crystals," said Curiosity scientist Sanjeev Gupta. "These can form when salts become concentrated in water, such as in an evaporating lake."
According to DiGregorio however, these surface features are actually trace fossils (such as footprints, tracks or feces) of soft-bodied life forms that once roamed Mars up to 450 million years ago.
Unsurprisingly, he and NASA haven't exactly seen eye to eye on the matter.
"NASA has turned its back on trying to get the data on this," he said. "The order came down from HQ that they should move the rover on to the next point."
"They didn't feel it was important enough to look at, I thought that was very odd, despite the fact Gale Crater was host to probably a series of lakes for billions and billions of years."
DiGregorio is due to present his hypothesis at a conference in Australia in June. In the meantime, the photographs will no doubt be scrutinized further to determine if there is any merit to his claims.
If it turns out that he is correct, it will certainly be a discovery of monumental proportions.
Source: Tech Times | Comments (54)
Similar stories based on this topic:
Tags: Mars, Life