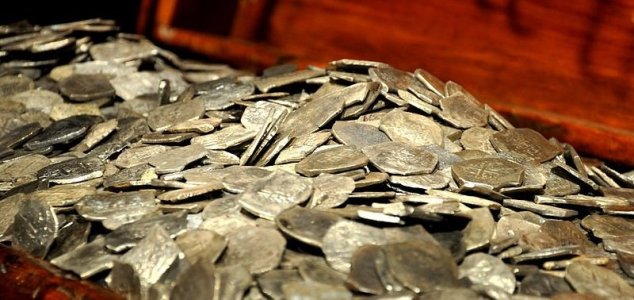 Pieces of silver recovered from the wreck of the Whydah.

Image Credit: CC BY 2.0 Theodore Scott
The grave is believed to be the final resting place of Captain 'Black Sam' Bellamy's 100-strong crew.
Dating back 300 years, the site, which is located in a secluded area of Cape Cod, is thought to be where Bellamy's crew was buried after their ship, the Whydah Gally, was wrecked back in 1717.
Around 100 sets of remains have been found so far, however Bellamy himself, who was once dubbed 'the world's richest pirate' after raiding more than 54 vessels, was not among them.
Instead, his body was thought to have been found during an earlier excavation of the wreck itself.
"He was known as the 'Prince of Pirates' because of his gentle but stern nature and he was able to mitigate potentially violent situations," said investigation leader Casey Sherman.
Efforts are now ongoing to match the DNA from the body with that of Bellamy's living descendants.
"The evidence that it's Bellamy's [body] is exceedingly compelling," said Prof Timothy Palmbach. "It was immediately next to a pistol that was proved to be Bellamy's without a shadow of a doubt."
Source: Stuff.co.nz | Comments (5)
Tags: Captain Bellamy, Pirate