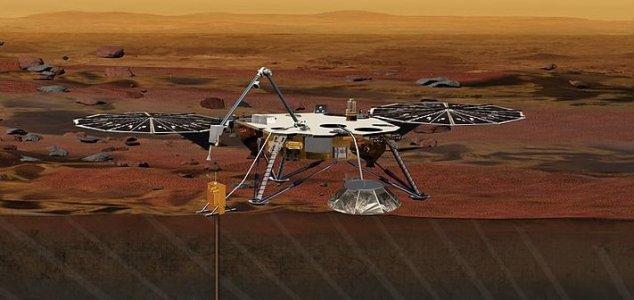 InSight will delve beneath the surface of the Red Planet.

Image Credit: NASA/JPL
The spacecraft blasted off from Vandenberg Air Force Base in California aboard an Atlas V rocket earlier today.
Expected to land on Mars in November of this year, the $1 billion lander will attempt to learn more about what lies beneath the surface of the Red Planet using an array of instruments including a burrowing temperature sensor and a seismometer designed to detect Marsquakes.
A radio science experiment will also be carried out to study the planet's internal structure.
"This mission will probe the interior of another terrestrial planet, giving us an idea of the size of the core, the mantle, the crust and our ability then to compare that with the Earth," said NASA chief scientist Jim Green.
"This is of fundamental importance to understand the origin of our solar system and how it became the way it is today."
The mission, which is expected to last two Earth years, will ultimately produce a true 3D image of Mars, offering clues as to how the planet (and by extension the Earth) formed billions of years ago.
"InSight, for seismologists, will really be a piece of history," said scientist Philippe Lognonne.
Source: The Guardian | Comments (10)
Tags: InSight, Mars