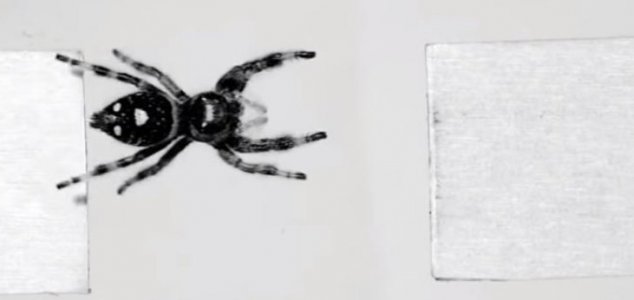 Spiders are very good at jumping.

Image Credit: YouTube / University of Manchester
Jumping spiders are capable of launching themselves six times their body length from a standing start.
For the experiment, researchers at the University of Manchester trained a spider nicknamed Kim to jump different heights and distances on a man-made platform in a laboratory.
Using CT scanning and high-speed, high-resolution cameras, the team was then able to record and analyze the spider's movements and behavior in more detail than ever before.
"The focus of the present work is on the extraordinary jumping capability of these spiders," said study author Dr Mostafa Nabawy. "A jumping spider can leap up to six times its body length from a standing start. The best a human can achieve is about 1.5 body lengths."
"The force on the legs at take-off can be up to 5 times the weight of the spider - this is amazing and if we can understand these biomechanics we can apply them to other areas of research."
By understanding the mechanics of a spider's jump, the scientists hope to eventually be able to develop a new class of super-agile micro-bot capable of leaping similar distances.
Source: Phys.org | Comments (13)
Tags: Jumping Spider