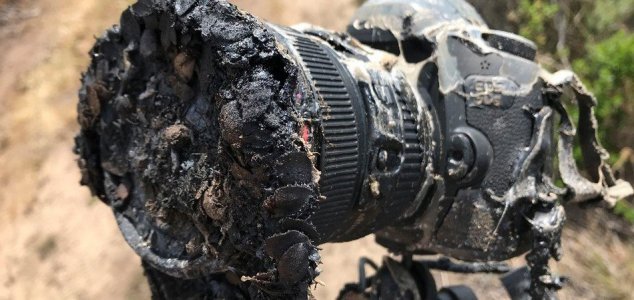 The extremely expensive camera ended up a little worse for wear.

Image Credit: NASA / Bill Ingalls
Veteran NASA photographer Bill Ingalls lost one of his cameras in a freak accident earlier this month.
Having been assigned the task of photographing a Falcon 9 rocket launch at Vandenberg Air Force Base in California on May 22nd, Ingalls had set up his cameras as he'd done dozens of times before.
As the rocket careened in to the sky however, this particular camera, which was ironically furthest from the launch pad, got caught in a grass fire that had been sparked by the heat of the launch.
Images showing the charred remains of the camera soon went viral on social media.
"I had six remotes, two outside the launch pad safety perimeter and four inside," said Ingalls. "Unfortunately, the launch started a grass fire that toasted one of the cameras outside the perimeter."
A slideshow showing the fire that ultimately destroyed the camera can be viewed below.
Source: Mashable | Comments (6)
Similar stories based on this topic:
Tags: NASA, Launch, Camera